Dentures – Fountain Valley, CA
Rebuild a Beautiful Smile
Millions of people across the U.S. are edentulous (missing all of their teeth). If you have suffered extensive tooth loss, our Elite Dental of Fountain Valley team is prepared to help. We are proud to offer dentures, which present a convenient and efficient way to rebuild a beautiful smile. Would you like to learn more about dentures? Read this page, and then contact us when you are ready to schedule your consultation.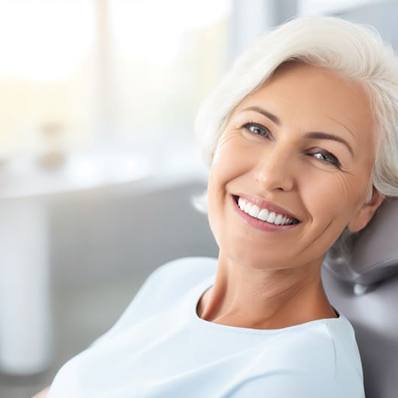 Why Choose Elite Dental for Dentures?
State-of-the-Art Dental Technology
Multiple Types of Dentures Available
Caring & Empathetic Dental Team
Who Is a Good Candidate for Dentures?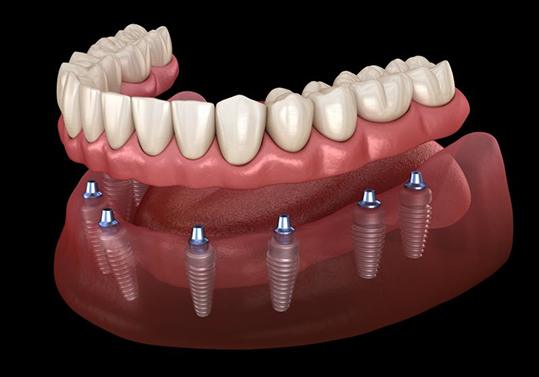 Almost anyone who is struggling with the life-altering effects of missing teeth may be a candidate for dentures. For example, you might feel nervous about smiling in public, and you may have significantly modified your diet to exclude some of your favorite foods.
Our team will verify your candidacy for dentures. If your gums are in good shape, and your tooth loss is relatively extensive (as opposed to someone who is missing just one or two teeth), the chances are good that dentures will be able to help you.
Types of Dentures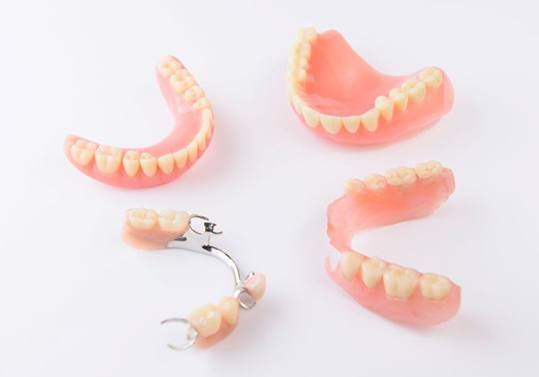 During your consultation, we will thoroughly examine your mouth and learn about your goals and hopes for treatment. Based on what we learn, we will design a plan to help you rebuild your smile. We might recommend that you receive partial dentures, full dentures, or implant dentures.
Partial Dentures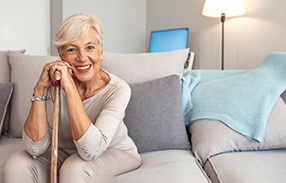 If you still have some healthy natural teeth, we may design a partial denture for you, which can fit in around your remaining dentition. Small metal or acrylic clips can help it to stay secure during eating and speaking. Often, partial dentures feature acrylic teeth and an acrylic gum-colored base.
Full Dentures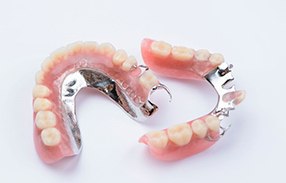 A full denture replaces an entire arch of natural teeth. It features a custom-designed base that is meant to rest comfortably against the gums, along with acrylic or porcelain teeth. Natural suction or a dab of adhesive can help a full denture to stay in place during everyday activities.
Implant Dentures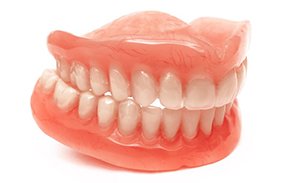 Implant dentures are anchored in the mouth with the help of prosthetic tooth roots (dental implants). Therefore, they are extremely sturdy in the mouth. They can preserve the strength of the jawbone and have a longer life expectancy than traditional dentures. We often recommend implant-supported tooth replacement as the best solution for patients whose oral structures allow for it.
The Benefits of Dentures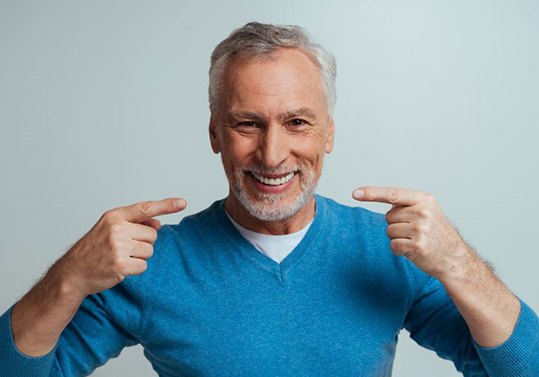 Dentures offer a number of remarkable benefits:
They are customized for each patient, so you can expect them to look natural and fit well in your mouth.
They can enable you to eat a wide variety of foods.
They are a cost-effective way to replace multiple teeth.
Caring for dentures is fairly simple. A good oral hygiene routine and some reasonable precautions can keep them in good shape for the long haul.
Traditional dentures can last for 5 – 7 years, and implant dentures can last even longer.