Veneers – Fountain Valley, CA
Conceal Dental Imperfections in a Matter of Weeks!
Wanting to improve your smile is one thing. Having the time to undergo months of back-to-back cosmetic dentistry treatments is another. Fortunately, you no longer have to wait 6+ months to achieve the smile of your dreams. In fact, you can conceal everything from slight gaps between your teeth to permanent discoloration in a matter of weeks with veneers in Fountain Valley, CA. The first step is simple: schedule a consultation with our talented cosmetic dentists or keep reading to learn more!
Why Choose Elite Dental of Fountain Valley for Veneers?
Top-Rated Dental Team in Fountain Valley
Cutting-Edge Dental Technology
Flexible Financing Available
What Are Dental Veneers?
Commonly referred to as "porcelain veneers," dental veneers are thin sheaths that are custom-made to adhere to the front-facing surfaces of your teeth. Everything from the size and shade to the shape is completely personalized to your specific smile goals, which means the results can look as natural or dramatic as you'd prefer. Plus, veneers can conceal several common dental imperfections, including minor misalignment, noticeable chips, stubborn stains, and more.
The Process of Getting Veneers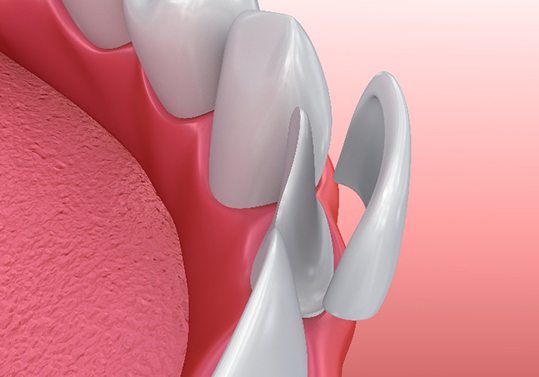 First, you'll have a consultation with one of our dedicated Fountain Valley cosmetic dentists. During this appointment, they will confirm if you're a good candidate for veneers and, if you are, create your custom treatment plan. After the size, shape, shade, and number of veneers are ironed out, we will remove a small portion of your tooth enamel. Then, we will take impressions and adhere a temporary set of veneers to your teeth while the lab artisans craft your final veneers.
At your next appointment, you'll return to our dental office to have your permanent veneers placed. After removing your temporary set and bonding your final ones in place, we will make any necessary final adjustments, polish them up, and the entire treatment process will be done!
The Benefits of Veneers
Patients who choose veneers can enjoy several noteworthy benefits, such as:
Veneers can last for 20+ years with proper care.
Veneers are crafted from stain-resistant materials.
Veneers can correct multiple imperfections at once.
Veneers are custom-made to look and feel extremely lifelike.
Veneers can be placed in three visits or less.
Veneers are easy to care for.
Between how versatile they are, how lifelike they are, and how long they last, it's not surprising that veneers continue to be a sought-after cosmetic dentistry treatment year after year. If you're interested in achieving your dream smile with these thin sheaths of porcelain, then schedule a consultation with our team at Elite Dental of Fountain Valley. We look forward to making your smile goals a reality!