Frequently Asked Dental Questions – Fountain Valley, CA
Helping You Stay Informed
No matter how long it has been since your last dental appointment, we know you have questions, and we want to be here to answer them for you. Below, you will find a list of common questions asked by our Fountain Valley dental patients over the years. To provide clarity, transparency, and accurate information, we've compiled our answers to better assist in ensuring you have what you need to make the right choice about your oral health.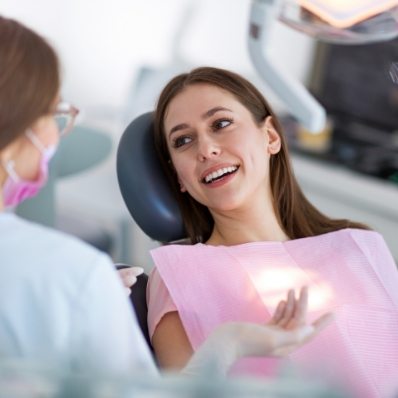 How often should I see a dentist?
It is recommended that you see a dentist every six months for general dental checkups and teeth cleanings. Tooth decay, infections, and damage can easily develop, which is why it is important to catch these problems early on. If any are found, we can administer treatment quickly and avoid prolonged issues that require invasive treatment.
How can I go about replacing my missing teeth?
There are three ways to replace missing teeth – dental implants, dental bridges and dentures. Ultimately, it is up to your preference, oral and overall health, jawbone density, and budget that will determine which type of prosthetic you will need. Although dental implants are viewed as superior, any of these solutions will improve your aesthetics and oral function in the future.
If I experience a dental emergency while out of town, what should I do?
You'll first need to call a local dentist's office to inquire about getting in for an emergency appointment. Make sure to be careful with your dental injury in the meantime and call our office to alert us to the situation. It is possible we will want to see you after you return to make sure there is no further damage.
Do you offer sedation dentistry?
Yes! We are pleased to provide nitrous oxide to help ease any anxiety or fears about visiting the dentist or undergoing any type of procedure. This is a mild form of sedation that is commonly used on those with minor or moderate anxiety as well as those who have a sensitive gag reflex, are fearful of needles, and have difficulty sitting still for prolonged periods of time. We can improve the patient experience and keep individuals coming back to receive necessary dental care.
Will my veneers look natural?
Yes! Our team has advanced training in cosmetic dentistry and is fully capable of placing these customized restorations one at a time. Because it is essential for the veneer to perfectly align with the gumline, the dentist placing it must have an artistic eye and skilled hand. Thankfully, our team at Elite Dental of Fountain Valley has the experience to ensure your veneers will look and feel completely natural once put into place.
Will you accept my dental insurance?
We are an insurance-friendly dental practice that is in-network with multiple PPO dental insurance plans. We'll sit down to discuss your policy and coverage as well as ways to get the most out of your plan so that you don't spend more than necessary on important dental care.